LATO A
Usitanio 0:53
Tarantella per Dody 1:13
Opus 1:34
The Chiefdance 1:56
Hop silenzio bing 1:47
Genus 1:48
Csárdás 4:59
La valse-hésitation 1:52
La quiméra 5:14
LATO B
Tarantella per Lolly 1:23
L'ultima masca 1:46
Baus'dl'ula 2:00
idiaLdance 1:54
Trinkwasser's Rag 1:15
Moj dragane 1:46
Xaradie 3:17
Est/est 2:54
Folkestralia 3:32
AVAILABLE as LP and K7 audio cassette.
Composizioni e arrangiamenti di Marco Giaccaria.
Registrazioni effettuate nello studio di Giorgio Quaglia a Torino, gennaio-marzo 1986.
Missaggio a cura di Marco Giaccaria, Carlo Mario Chierotti, Saeed Etezadi, Roberto Bevilacqua e Giorgio Quaglia.
La copertina è stata dipinta da Marco Giaccaria.
Foglio interno a cura di Alessandro Levi Montalcini.
---
I musicisti presenti (da sinistra a destra nelle foto):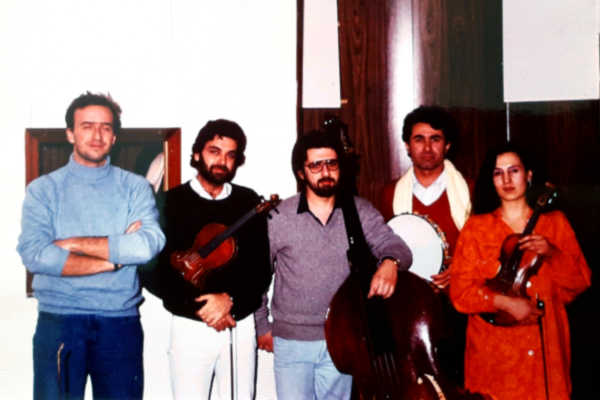 Carlo Mario Chierotti - Jorge Roberto Regio - Roberto Bevilacqua - Saeed Etezadi - Flavia Brazzelli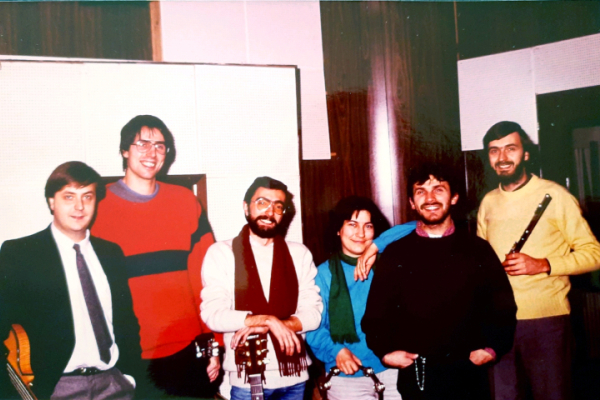 Alberto Giaccaria - Andrea Morandini - Mauro Sciandra - Lidia Ugorese - Pier Paolo Calcagno - Marco Giaccaria
---
Musica Mancina - MG01, 1986.
LET'S SUPPORT THE INDEPENDENT MUSIC!