Marco Giaccaria: Folkestralia (1986)
Opus [1:36]
(Marco Giaccaria, flute - Jorge Roberto Roberto, violin - Saeed Etezadi, darbukah)
Trinkwasser's Rag [1:17]
(Marco Gaccaria, flute & drums - Roberto Bevilacqua, double bass)
Moj Dragane [1:46]
(Marco Giaccaria, violin & bouzouki - Saeed Etezadi, darbukah)
Claudio Lodati & Marco Giaccaria: Lupi (2003)
2 [1:03]
(Marco Giaccaria, transcribed improvisation on PC - Claudio Lodati: electric guitar)
3 [1:03]
(Marco Giaccaria, fractal composition - Claudio Lodati: two electric guitars)
14 [3:10]
(Marco Giaccaria, loops sequencing, transcr. improvisation - Claudio Lodati: electric guitar)
Marco Giaccaria: Solo un flauto, ma non solo. (2012)
Ondo I
Ondo V
Kelo I - Sharadhun
Ondo VIII
Ondo XI - Sharadhun
Elisa Chiaraviglio: musica per organo (2005)
J. S. Bach: corale ornato
W. A. Mozart - Ave verum Corpus
G. F. Handel - Largo dall'opera Serse
COMING SOON!
---
Links:
Musicians involved in Musica Mancina:
Marco Giaccaria - official web site
Andreina Polo - official web site
Claudio Lodati - official web site
Massimiliano Peretti - official web site
Ciarán Ward and Éire Nua - official web site
Eugenio Mirti - official web site
Paola Dipietromaria - official web site
Other links:
www.scaruffi.com - In 2006 the New York Times ran an article about www.scaruffi.com that was titled "The Greatest Web Site Of All Time" (October 15, 2006, Arts & Leisure section page 26).
htwins.net - interactivities.
---
Our History
1986
The first production is Folkestralia by Marco Giaccaria (both on vinyl and K7-audio cassette); some musicians on this album will record for Musica Mancina through the years.
1992
The first CD is published; the K7-audio cassettes will survive until the 1998.
1993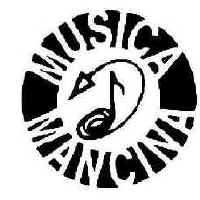 This is the original logo created in 1993 by Frank Priola. Thank you Frank!
1999
Many interesting albums were published: a wide variety of genres is the main mark of our little label.
2009
Begin the distributions with mininova.org (now closed!) as free download (torrent files) and from the CDbaby's web site (now it's closed too).
2012
Some works are freely available to download from Archive.org.
2021
Beginnning of collaboration with Frozen Woods Records.
2022
Our distribution starts on Bandcamp.