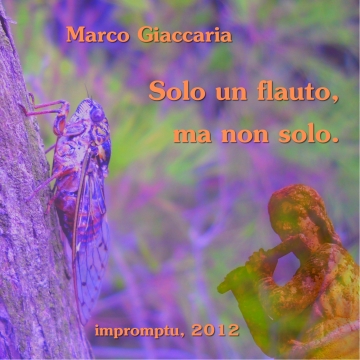 Download gratuito del PROMO /
PROMO in free download:
ARCHIVE.ORG
01. Ondo I 0:54
02. Ondo II 1:36
03. Taverno I 1:49
04. Taverno II 3:58
05. Taverno III 4:11
06. Ondo III 2:11
07. Ondo IV 2:41
08. Ondo V 1:49
09. Kelo I - Sharadhun 1:48
10. Kelo II 3:44
11. Kelo III 2:51
12. Ondo VI 1:14
13. Ondo VII 1:08
14. Ondo VIII 1:03
15. Ondo IX 0:53
16. Ondo X - Sharadhun 2:21
17. Ondo XI - Sharadhun 2:12
18. Ondo XII 0:41
19. Lesivejo I - Melodia 3:44
20. Lesivejo II 4:43
Marco Giaccaria: improvisations on flute,environmental recordings and photos.
Recorded between April and December 2012 in Porquerolles, Torino, Piossasco and Cumiana.
Cover by L'Indomito.
Produced by Marco Giaccaria for Musica Mancina, 2012 - MGCD59.
Questo lavoro contiene improvvisazioni registrate in quattro luoghi diversi: Ondo, Taverno, Kelo e Lesivejo; il titolo di ognuna suggerisce il tipo di ambiente dove è avvenuta l'improvvisazione. Sono tutte presentate in ordine cronologico, dalla prima del 18 aprile 2012 all'ultima dell'1 dicembre.
Le improvvisazioni dalla numero 1 alla 18 nascono da una breve idea melodica; solo l'inizio di Ondo XI (Sharadhun) e quello di Lesivejo I (Melodia) sono stati composti prima.
Nessun taglio o montaggio in digitale: le ascolterete integralmente così come sono uscite.
Ho usato esclusivamente il mio vecchio flauto, un Muramatsu del 1980.
Il mare, le cicale, gli uccelli notturni e diurni, i grilli, i cani, i galli, la pioggia e tutti i rumori che si ascoltano sono stati registrati nello stesso periodo delle improvvisazioni.
Le foto sono state scattate nei luoghi delle registrazioni.
Intervista a cura di Eugenio Mirti
Recensione a cura di Alfonso Tregua
---
English version:
This work contains improvisations recorded in four different places: Ondo, Taverno, Kelo and Lesivejo; each one of their titles suggests the type of environment where the improvisation happened. They are all presented in chronological order: from the first, of April 18, 2012, to the last of December 1.
The improvisations from number 1 to 18 are born from a short melodic idea; just the beginnings of Ondo XI (Sharadhun) and Lesivejo I (Melody) were composed in advance.
No cutting or digital editing: you will listen in full as they have come.
I played only my old flute, a Muramatsu of 1980.
The sea, cicadas, diurnal and nocturnal birds, crickets, dogs, roosters, the rain and all the sounds that you hear were recorded in the same period of the improvisations.
The photos were taken in the sites of recordings.
---
LET'S SUPPORT THE INDEPENDENT MUSIC!
Digital download available on Spotify, iTunes, Amazon and many others.