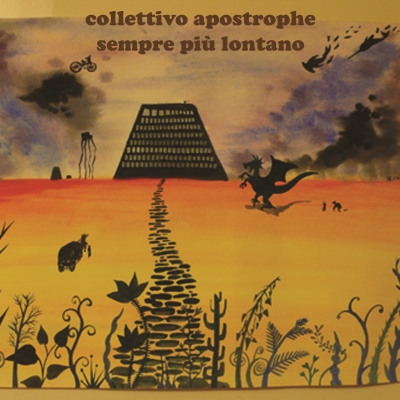 01. Le tre città (Mirti) 6:32
02. No Pasaran! (Giaccaria) 2:48
03. Ballad per Laura (Mirti) 5:19
04. Hoover Dam (Mirti) 5:56
05. Blackshout Blues (Mirti) / Marcus (Giaccaria) 7:18
06. Blues Carnaval (Giaccaria) 7:04
07. Via Valgioie, 5 (Mirti) 5:35
08. Sempre più lontano (Giaccaria) 9:48
Marco Giaccaria - flutes, electric violin, bouzouki
Eugenio Mirti - electric and acoustic guitars
Sergio Ponti - drums
Recorded, mixed and edited by Marco Giaccaria between august and september 2013.
Front cover: Possibilities by Ho Hsiang Wei
Produced by Collettivo Apostrophe for Musica Mancina, 2013 - GRCD63.
A stunning blend of jazz, rock and ethnic music played by an unusual bassless trio.
Visit our page www.marcogiaccaria.it/collapos.html
---
LET'S SUPPORT THE INDEPENDENT MUSIC!
Digital download available on Spotify, iTunes, Amazon and many others.