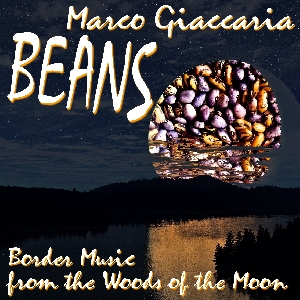 Border Music from the Woods of the Moon
:
01. The Maquis, Were all it Began 1:41
2. Nineteeneightysix 1:47
3. Nineteeneightysix, the Second theme 2:33
4. My Best Wishes 2:07
5. Do not Shake that Mushroom 8:32
6. Interludio Amletico 0:36
7. Apples on the Moon 2:38
8. Craters and Holes 2:03
9. I will Never Be Alone 5:08
BEANS
:
10. Beans for all 4:50
11. Ceci est la Lune - I 1:07
12. non voglio la luna 1:56
13. Ceci est la Lune - II 1:22
14. Soy como las piedras 3:26
All music composed, arranged, played, recorded, mixed and edited by Marco Giaccaria between 1986 and 2016.
Marco Giaccaria: flutes, violin, tin & low whistles, bouzouki, mandola, classical guitar, electric guitar, electric bass, keyboards, percussions, sampled instruments.
FEATURING: Ensemble dei Suoni Residui (oboe, clarinet, french horn, bassoon and drums).
Another mixture of Classical music, Rock and Jazz with ethnic flavours...
It's hard to explain by words, but it's very clear when you're listening to it. All original compositions!
This work is made by two basic ideas: the first is "Border Music from the Woods of the Moon", a suite in 9 movements, in its "typical" alternating (in my own style)between Rock, Jazz, ethnic music and classical music... In my imagination, the woods of the Moon are a strange landscape between craters and lunar seas... All mixed together as my compositions.
The second suite is BEANS: all the compositions are totally improvised, except the themes from Carrickfergus and Summer is Icumen.
[If you like to have the complete artwork to print, feel free to visit the contact's page on Marco Giaccaria's web site to send your request; I'll send you soon the link to download it.]
---
LET'S SUPPORT THE INDEPENDENT MUSIC!
Digital download available on Spotify, iTunes, Amazon and many others.