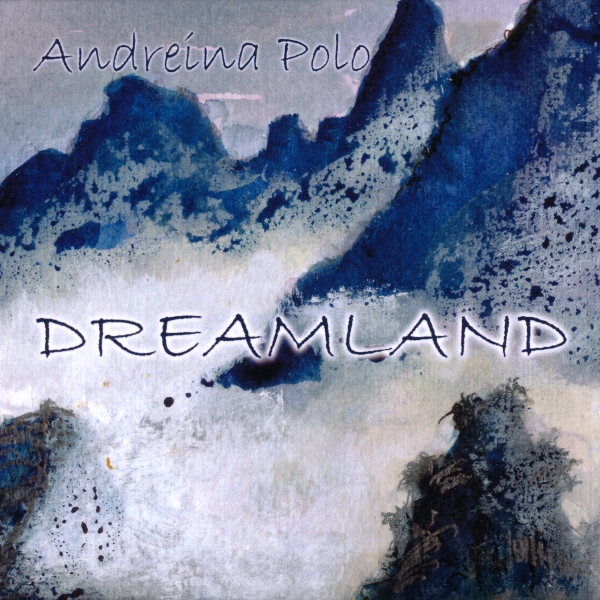 01. Dream of Dark Things 5:17
02. Rosa Dream 4:17
03 .Amami brutalmente 3:51
04. Time Dream 4:03
05. Sea of Dreams 5:35
06. Acid Dream 4:15
07. L'universo è quando sorridi 2:26
08. Dream's Land 2:06
09. Lenin on the Moon 5:14
10. Sogno Zen 4:53
DREAMLAND is a multimedia project that relies on the contributions of various musicians. I wanted to speak about the islands that are not there, the broken dreams of many, thinking about what may be, in many ways, a land of dreams or, at times, a nightmare.
The initial idea is visual: a series of large and smaller pictures of invented and reworked landscapes which I painted using different techniques. So, I sought to be inspired by these images to create musical atmospheres and texts.
This is an experimental, heterogeneous and performative creation like all my work. The project evolves as a non-linear experience.
I improvised vocally in one go on melodies that I chose:
"A dream that fades away in the morning, when you wake up."
Other voices and other dreams intersect; those of all the artists who participated with enthusiasm in the "jam session dream".
Andreina Polo
ITALIAN TRANSLATION:
DREAMLAND è un progetto multimedia che si avvale del contributo di musicisti di varia estrazione. Volevo parlare delle isole che non ci sono, dei sogni infranti di molti, riflettere su ciò che può essere, in modi diversi, una terra del sogno oppure, a volte, un incubo.
L'idea iniziale cui far riferimento è visiva: una serie di quadri di tecnica varia e di formati differenti; paesaggi inventati o rielaborati. Quindi, ho chiesto di ispirarsi a queste immagini per ricreare atmosfere musicali e testi.
È un lavoro sperimentale, eterogeneo e performativo, come tutti i miei progetti. La ricerca artistica evolve con esperienze e percorsi non lineari. Ho improvvisato vocalmente, "a prima vista", sui brani musicali che ho scelto:
"Un sogno che si dilegua al mattino, appena svegli".
Altre vocalità e altri dreams si intersecano: quelli di tutti gli artisti che hanno partecipato con entusiasmo a questa "jam session onirica".
Andreina Polo
Andreina Polo: voce
Marco Giaccaria: chitarra e basso, flauto, violino, bouzouki, synth & sampler
Massimo Iamone: chitarra elettrica
Bruno Guidetti: basso elettrico
Alberto Bosio: batteria
Raj Kamod Palampuri: tabla, voce
Ciarán Ward: voce
Joe Quinn: bodhrán
Rodolfo Mezzino: chitarra acustica
Bruno Pantano: pianoforte
Recorded between september, 2016 and march, 2017 by Andreina Polo and Marco Giaccaria.
Mixed by Andreina Polo and Marco Giaccaria.
Digital editing and mastering by Marco Giaccaria.
Cover and paintings by Andreina Polo.
Graphics by Andreina Polo and Nicola Mascolo (Centro Copie, Torino).
Produced by Andreina Polo for Musica Mancina.
---
LET'S SUPPORT THE INDEPENDENT MUSIC!
Digital download available on Spotify, iTunes, Amazon and many others.