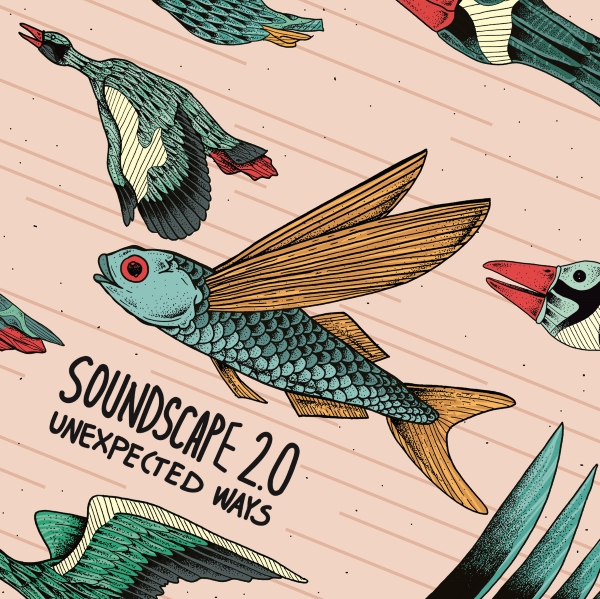 01. Just Follow It 2:44
02. Obsessed 4:13
03. Wake Up! 2:50
04. Never Named Before 3:27
05. Underestimated Weight of Heaven 3:44
All tracks are written and performed by Soundscape 2.0.
Soundscape 2.0
are:
Alice Basso - vocals
Claudia Fassina - drums, vocals
Elisa Lorenzo - bass, vocals
Maria Chiara Maccarrone - guitar, flute, vocals
Daria Orami - piano, synth, vocals
Recorded, mixed and edited by Alessandro Ciola at Imagina Production Studio Torino.
Cover artwork: heygraphic.it.
Special thanks to Annamaria, Giuseppe, our friends and families.
"Modern Alternative, Electric Rock, with a hint of Progressive and lots of atmospheric piano and synth".
Hallo, stranger! Soundscape 2.0 are happy to show you their Unexpected Ways...
"Do I contradict myself? Very well, then I contradict myself, I am large, I contain multitudes."
(Walt Whitman)
We are YOUNG but we listen to old school rock.
And progressive rock.
Aaaand blues.
Yes. Just like OLD souls.
We like absolutely non-commercial, radio-unsuitable, hypnotic instrumental intros.
We like disturbingly abrupt outros.
We like uneven, complex rhythms.
We like to change metronomes within a single song.
BUT WE ALSO LOVE A CATCHY MELODY.
"No matter what they do
No matter what they say
No matter playing this part"
[from: OBSESSED]
We are GIRLS but we DON'T FIGHT.
We are friends since we were kids.
We don't see any reason why this should change in the future.
Catfights are urban legends.
Cats themselves usually prefer to sleep and eat. Think about that.
We are a rock band but we keep it real.
We work.
We study.
We earn our money.
We DON'T SMASH GUITARS, we dearly love them - our instruments are our best friends.
"Sorry if I'm not
What you would like me to
I swear that it's what
I'm struggling to do"
[From: WAKE UP!]
We play for our parents, siblings, friends, and men, who are superheroes in real lives and know what music can do every day for all of us.
Our dream is to make NOT-SO-ORDINARY MUSIC FOR ORDINARY PEOPLE.
"Pain, it's what you'll feel in you veins
Pray, it's not a human race"
[from: JUST FOLLOW IT]
And when we come home from our working day in the Big City, we go and sleep in the country.
WE LIVE NEAR TO THE WOODS.
We live near to two ancient castles.
Our rehearsal studio is in a basement from where you can hear a river flow.
And when we finish our practice, we emerge and SEE THE STARS.
Rock is for city life, they say.
But rock, and wood, and grass, is something we see a lot around here too, we'd say.
"Show me all the stars you know
I'll show you mine
They'll be the headlights of our car in motion"
[from: UNDERESTIMATED WEIGHT OF HEAVEN]
So that's our universe - thank you for asking :)
And we would be so glad if you would follow us into our soundscape too.
Enjoy!
---
LET'S SUPPORT THE INDEPENDENT MUSIC!
Digital download available on Spotify, iTunes, Amazon and many others.