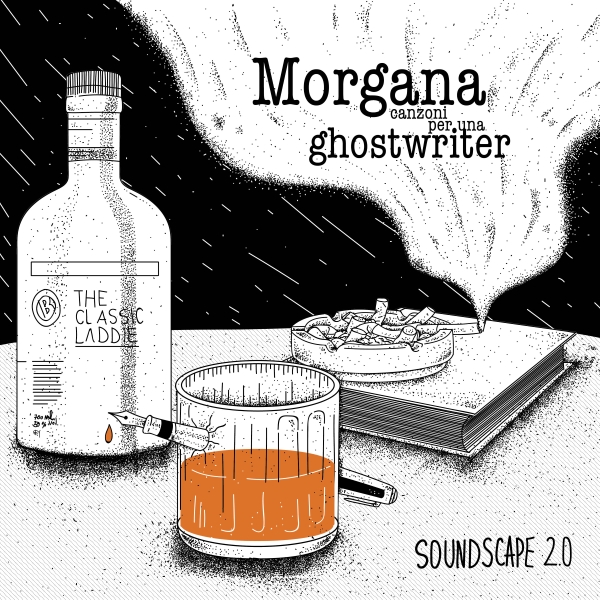 1. Il gioco dell'Inferno e Paradiso
2. Quasi
3. Dr. Jekyll e Mrs. Hyde
4. Uragani
English Versions:
5. The Underestimated Weight of Heaven
6. Almost
7. Dr. Jekyll and Mrs. Hyde
8. Hurricanes
All tracks are written and performed by Soundscape 2.0.
Soundscape 2.0
are:
Alice Basso - vocals
Claudia Fassina - drums, vocals
Elisa Lorenzo - bass, vocals
Maria Chiara Maccarrone - guitar, vocals
Daria Orami - piano, synth, vocals
Recorded, mixed and edited by Marco Giaccaria between february and april, 2019.
Cover artwork: heygraphic.it.

---
Queste canzoni sono tratte da dei libri: la saga di Vani Sarca*, pubblicata da Garzanti, che parla di una ghostwriter molto dark che aiuta un commissario a risolvere delitti. L'autrice dei cinque libri, Alice, è anche la cantante delle Soundscape 2.0.
In ogni libro, c'è un personaggio (una ragazzina di nome Morgana) che scrive per la sua band una canzone ispirata alle vicissitudini della sua amica Vani. Visto che le Soundscape 2.0 amano fare esperimenti, abbiamo voluto provare a mettere veramente in musica queste canzoni.
Questo CD è stato pensato un po' per i lettori, in modo che oltre a leggere i testi delle canzoni potessero finalmente anche ascoltarle; ma non solo, perché le canzoni sono autosufficienti e non è necessario conoscere i libri perché abbiano un senso.
Noi speriamo che siano prima di tutto, semplicemente, delle belle canzoni.
Soundscape 2.0
[
English translation
]
These songs come from books: five novels about Vani Sarca (published in Italy by Garzanti), a ghostwriter who dresses in black and helps a policeman with his crime investigations. The author of the books, Alice, is also Soundscape 2.0's singer.
In each book, a character (a girl named Morgana), who plays in a band, writes a song about her friend Vani's adventures. Since Soundscape 2.0 love trying new things, we tried and made actual songs out of those lyrics.
This album is for readers, so that they could listen to these songs and not just read them; but the songs are self-explaining, so any listener is welcome, even if they don't know the books.
We hope they are, above all, just good songs.
Soundscape 2.0
---
LET'S SUPPORT THE INDEPENDENT MUSIC!
Digital download available on Spotify, iTunes, Amazon and many others.